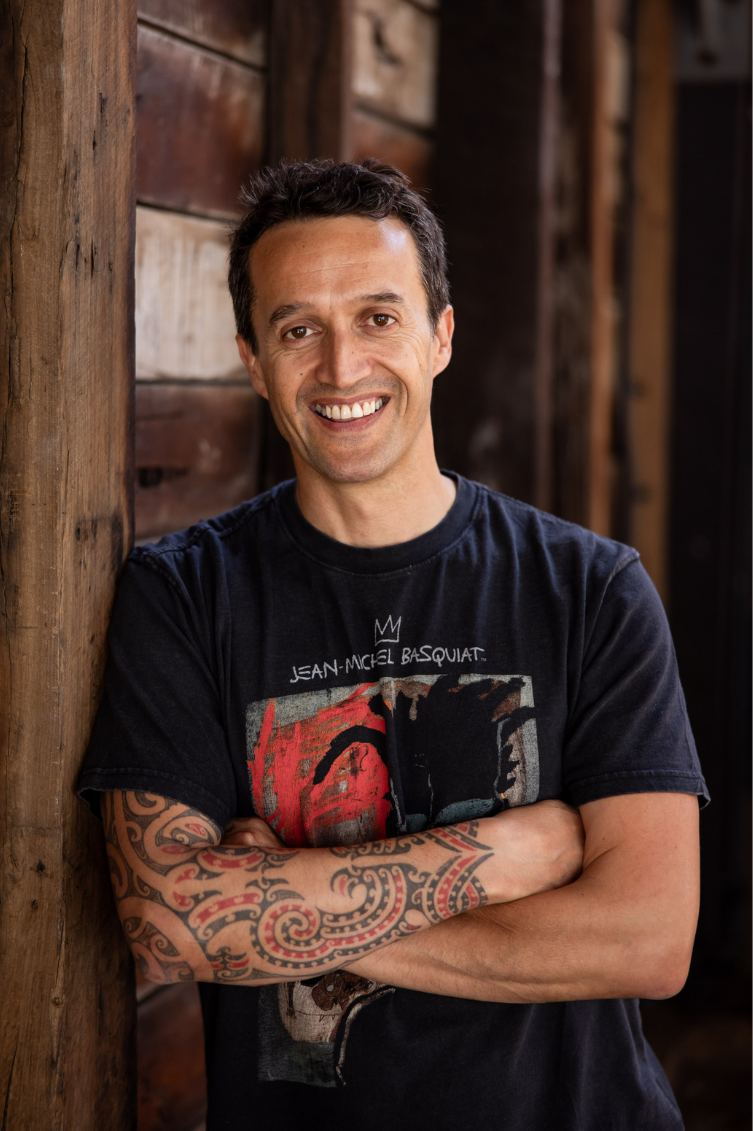 Family Background:

Born in Turangi, near Lake Taupō, Moss's proud ancestry comes from both the central north island and northern tribes of Aotearoa, New Zealand. Moss is a proud mokopuna (grandson) of the Ngāti Tūwharetoa tribe.

Biography:

Renowned Māori choreographer and Arts Laureat, Moss Te Ururangi Patterson brings both integrity and humility to his choreographic practice. He joins Bangarra in 2023, choreographing Horizon.  

Moss has been a professional dance artist in Aotearoa for the past 25 years. Patterson studied physical theatre and music in Dunedin before moving to Auckland to study dance and choreography at the Unitec Performing Arts School. Over the ensuing years, Moss worked with Footnote Dance, Black Grace, Touch Compass, Atamira Dance Company and the Royal New Zealand Ballet. Moss became a freelance choreographer and director in 2002 at the age of 25 and was appointed as the first Artistic Director of Atamira Dance Company in 2010 taking the company to major new heights as New Zealand's leading Indigenous dance company. In 2023, Moss was appointed as the Chief Executive/Artistic Director of The New Zealand Dance Company. 

In 2007 Moss's first major work Whakairo won best choreography and Design at TEMPO Dance Festival. In 2013 his works Moko and Haka were presented at the prestigious Jacobs Pillow USA, opening the way for international touring of Moss's distinctive work. In 2015 his major work Moko toured both China and Korea and from 2016 - 2018 two newly commissioned major works, Pango and Marama toured Taiwan, China, Korea and New Zealand. From 2011 – 2017 Moss collaborated with the Auckland Philarmonia Orchestra choreographing and directing a series of six large-scale dance works drawing artists from diverse communities all over Auckland city and presented at the Auckland Arts Festival. Moss has also choreographed major international ceremonies including the widely lauded New Zealand Rugby World Cup opening ceremony at Auckland's Eden Park and the League of Legends World opening ceremony at the Beijing Olympic Stadium. 

Moss is a 2020 NZ Arts Laureate, recipient of Creative New Zealand's Tup Lang Dance scholarship and the Te Whakahaungia Choreographic Award from Toi Māori Aotearoa. In 2019 he established a new whānau company label called TOHU where he has initiated a series of exciting new art works. In 2020 Moss was scheduled to develop new work in Taiwan, South Korea and present his work Pango in New York. Moss is currently poised to start two new choreographic commissions with significant dance companies in Australasia in 2023. 

Moss continues to be a passionate advocate for the empowerment of Maori culture, Te Reo Māori, and contemporary dance in Aotearoa, New Zealand.